CLO2 GENERATOR
ClO2 generators
: The chance for better sanitation
Viruses and pathogens never 'sleep.' Your body meets them everywhere, and they attack you every second. Sadly, the pandemic has proved that recently. Today, more than ever, it is essential to thoroughly disinfect the water you consume to protect yourself from yet another pathogenic attack. ClO2 generators can be safely used for that.
These small systems are an emerging technology devastating for almost all pathogens. They produce chlorine dioxide to sanitize tiny objects and make your water safer. Their purity rate is just shy of 100%, which is high enough to revolutionize water disinfection at your home and sustain decent potable water standards overall.
Diving deep into
chlorine dioxide generation
Water is life. Poorly sanitized water poisons your body, makes you feel sick, and reduces your lifespan. By contrast, pure water heals you step by step while detoxifying you from within and filling you with the energy of life.
Chlorine dioxide is a sought-after disinfectant unmatched at killing viruses, pathogenic bacteria, and multiple microorganisms (including Staphylococcus, Escherichia Coli, molds, yeasts, etc.). It is non-toxic when generated by specialized equipment, which makes it ideal for home use.
Chlorine dioxide generators are rising in popularity as a safe way to generate ClO2 on-site, which is then used to eradicate germs, remove unwanted odors, and purify water. Besides, these systems boast a number of benefits over traditional purifiers:
Lower installation time

Relatively simple operation and maintenance

Decreased running costs

More consistent performance

Reduced environmental impact
The latest configurations of ClO2 generator systems maximize the purity of chlorine dioxide and work gently on any surface. This makes them a sound investment for use in households and high-risk and sanitation environments, including public places.
ClO2 gas generators are extremely efficient. They produce chlorine dioxide in a matter of minutes through an electrochemical reaction. The technology enables gas generation with no by-products, meaning you are not diluting the effectiveness of the sanitizing agent or settling for risks you were unaware of.
Revealing the safety secrets of
chlorine dioxide generation systems
Designed for home use, these systems are absolutely free from danger. They have international certificates confirming their quality and safety of operation. But you can make an additional effort to ensure your system functions risk-free after setting it up at your place. Check whether:
Your generator is installed and operated in a well-ventilated area.

You are up-to-date on all maintenance inspections, which should be done regularly.
At Zapper Store, we can help you address any issue you may have to ensure you get the most out of your purification system.
Understanding
chlorine dioxide generator costs
After purchasing the device, you will have to fine-tune some settings so it is ready to go. The chlorine dioxide generator price includes free, expedited shipping to the US and Canada. We deliver to all cities, but the cost and terms may vary from one to another.
Give yourself a chance to live a healthy, long, and active life with innovative systems for water purification at Zapper Store!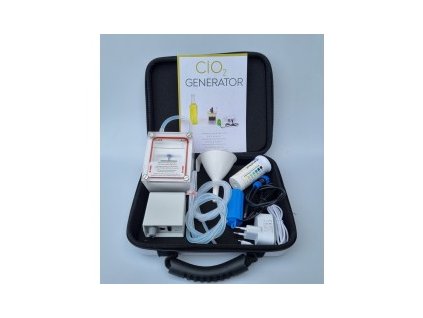 NEW Model 2022! - ClO2 Generator of ultra-pure chlorine dioxide. A brand-new way of production. Purity of at least 99.99%.
Code:

94